Before you assume we're going to try to talk you out of those gorgeous pastel colors for your locks, lets clear the air and say we are absolutely for the ongoing fun color trend. We love the vibrant pinks, lilacs, blues and greens trending in Hollywood and all over the map. We only intend to be HONEST about the maintenance and upkeep that is involved with the extra colorful hair pallet. It takes a lot for your hair to take on those colors, and a bit more to keep them. We're going to answer three important questions that should be considered.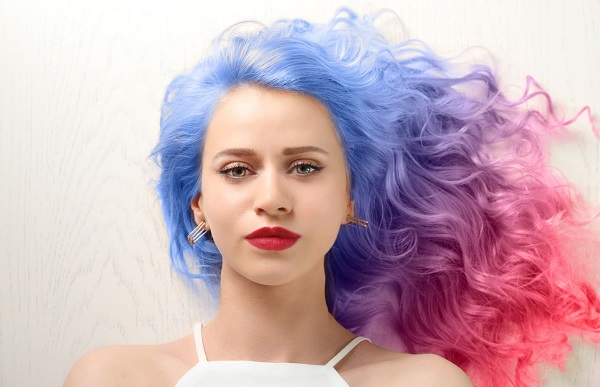 How do you keep your locks healthy with all the bleaching and dying necessary for dramatic hair color changes?
Moisturize, moisturize, moisturize! Whenever you are coloring or highlighting your hair, moisture is going to be key in maintaining health. Talk to your Burlington hair stylist about a GOOD (and yes there IS a difference) shampoo and conditioner for color treated hair. When it comes to coloring your hair, lightening it up can be the most damaging process. Once you have your hair "stripped" enough so to say, adding the vibrant pastel hues doesn't cause further damage and are mostly semi-permanent. They tend to fade quickly so you can play with multiple colors and switch it up often once your hair is ready for them. Going dark is typically easier and less damaging, but once you go dark it takes a lot more effort and strain on the hair to go light again.
How often do you need to touch up your pastel colors to keep them looking fresh and healthy?
Unfortunately, the bright and vibrant colors tend to fade a lot faster. The brighter you go the more washes you have as they will fade into lighter and lighter pastel shades with each wash. If you want to keep your colors lasting, expect to visit your favorite stylist monthly if not more often depending on the color and how bright you want to keep it.
How can you play with colors in your hair that will last longer and take a bit less maintenance?
Colored extensions can help you keep vibrant locks with a thicker texture longer. It's probably the best way to add the bright colorful hues to your hair long term without worrying about the fade or the continual touch ups.
Platinum Salon and Spa Stylists use only the best products and stay up to date on all the latest techniques. We will help you achieve your hair color goal and be honest with you along the way from the process through to maintenance coaching.
Contact Platinum Salon and Spa to schedule your next hair color appointment today.