Schedule a Facial at our Burlington Spa
Platinum Salon & Spa offers customized Aveda Facial Treatments in Burlington, Wisconsin. Schedule your facial appointment today – call us!
Our skin therapists love helping clients reveal their skin's natural beauty, and facials are an incredible way to do exactly that. The facial treatments available at Platinum Spa are designed to balance your skin and help you remedy dry, oily, sensitive, aging, and acneic skin conditions. Let's discuss your individual skin needs and what results you're hoping to get out of facial treatments. We'll create a comprehensive plan that can achieve and maintain those results. Depending on your needs, facials will be recommended on a weekly, monthly, or seasonal basis.
Explore our facial options and pricing below. If you like what you see or want to learn more – contact us.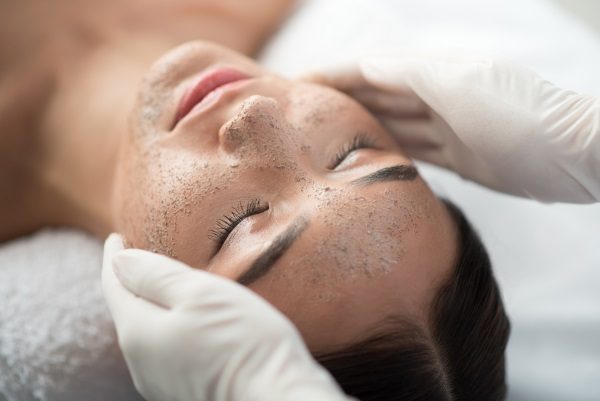 Aveda Facial Treatments | Pricing
We love facials! And we want to share our obsession with you. Whether you want a long term treatment plan or you simply want to try a facial out, we'd love to hear from you to discuss your needs. Our facial treatments include:
Teen Facial

30 min / $40.00
This facial is perfect for your teen who may be struggling with breakouts or who wants to learn more about their skin, good ingredients, and proper techniques to maintain balance in the skin and keep pesky oil and breakouts at bay.
Maintenance Facial

60 min / $75.00
This treatment is for those who maintain consistent professional treatments every 4-6 weeks. This facial benefits the most from a consistent at home routine that has been recommended by our professionals.
Relaxing Facial

90 min / $115.00
Energize your skin with this treatment. Any concerns can be addressed during your consultaion. Your skin therapist will provide the best combination of product, personalized Aveda aromas and techniques to design a customized treatment to reveal natural beauty. This is a facial that is designed specifically for you and your skin type. Add-on services available for a small cost.
Tulasara Facial Treatment

90 min / $130.00
Dry, oily, aging, uneven, sensitive and acneic skin conditions and eye concerns can all be addressed with a customized Tulasara facial treatment. After a thorough consultation, your skin therapist will provide the best combination of products, personalized Aveda aroma, and techniques. We will design a customized treatment that will move your skin toward balance and reveal its natural beauty.
Dual Exfoliation Facial

90 min / $150.00
The dual exfoliation peel is Aveda's latest advancement in non-invasive, skin-renewing treatments. The treatment delivers immediate, visible results in improved skin texture, clarity, and radiance; smoothed appearance of fine lines and wrinkles; and refined pores. In a clinical study, the dual exfoliation peel achieved better results than a combined microdermabrasion/30% glycolic peel treatment in both immediate smoothness and radiance.
Signature Facial

90 min / $130.00
The Signature Facial is our newest facial that is specialized for your exact skin needs, whether it is to illuminate, refine pores, or hydrate. Using AVEDA's new botanical kinetics serums, the use of stem cells and powerful plant derived acids are used to create radiant, healthier looking skin. 
Add-On Facial Services

 $10.00 – $20.00
Paraffin – $10.00
Under-eye Treatment – $15.00
Plant Peel – $20.00
Dermaplaning – See pricing under Dermaplaning