Get Eyelash Extensions in Burlington, WI at Platinum Salon & Spa
Platinum Salon & Spa offers eyelash extensions in Burlington, WI. Schedule an appointment with our eyelash artists today!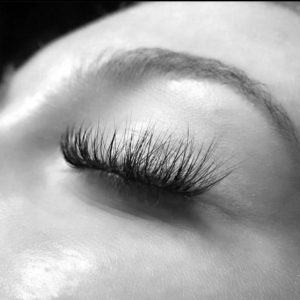 More Lashes, Less Effort | What to Expect from Eyelash Extensions
No more mascara or lash curlers needed! Wake up ready to take on the day with your lashes looking voluminous and full!
The extensions are individual silk synthetic eyelashes that are attached with a strong adhesive to each natural lash you have. These do not damage your natural lashes at all and can be worn for a special event or long term. They are highly customizable and look great on everyone! You are in control of the amount of drama your lashes have.
The extensions will shed out with your natural lashes. This is totally normal! You lose between 2 – 5 natural lashes a day! As your lashes shed in their natural cycle we recommend getting lash fills every 2-4 weeks to keep your lashes looking full and fabulous! We guarantee our lashes for 3 days after application.
Any Fills longer than 4 weeks or return with less than 40% of lashes (per our professionals' judgment) will be charged Full Set pricing. Call our professionals with any questions.
If you enjoy our artists, we have a Lash Loyalty program to give you perks of keeping up with your lovely lashes!
Classic Eyelash Extensions
Full Set – $125
Lash Fill – $65
For classic lashes, one extension will be placed on each natural eyelash you have. If you have plenty of natural lashes to start with, classic extensions will add length and create a defined curl. On the other hand, if you have fewer natural lashes, you will likely need hybrid extensions to create the look you want.
Hybrid Eyelash Extensions
Hybrid Full Set – $175
Hybrid Lash Fill –  $85
For hybrid lashes, we mix classic & volume lash extensions to create a fuller lash line. If your eyelashes are thinly distributed or you have gaps, hybrid eyelash extensions are the best solution.
Volume Eyelash Extensions
Full Set – $215
Lash Fill – $105
Volume lashes will create a fullest lash line. These lashes are meant for their drama and density! If you have hybrid lashes and are looking for the next step, volume is for you!
Eyelash Lift and Tint
$80
Lash lift and tint is a natural, low maintenance, lash healthy alternative to eyelash extensions. This service will add lift, curl, and tint to your natural lashes, and is great for all lash lengths and colors.
Results last between 6-8 weeks, depending on lash growth cycle and home maintenance.